PHEMAC Newsletter Goals
The PHEMAC newsletter has been designed and aims at promoting the project's results to interested users, It has multi-fold objectives:
Inform on recent and future PHEMAC activities and events,

Summarize ongoing activities,

Provide links to detailed material on specific subjects,

Foster liaison with other related projects,

Disseminate and advertise the project's results,

Announce significant events (e.g. conferences) related to PRIMA SRIA priorities and WEF fields
About PHEMAC
PHEMAC aims to develop and disseminate an interactive platform that will gather and share best practices focused on PRIMA SRIA priorities, involving a wide range of stakeholders from the farming system, water management and agri-food sectors.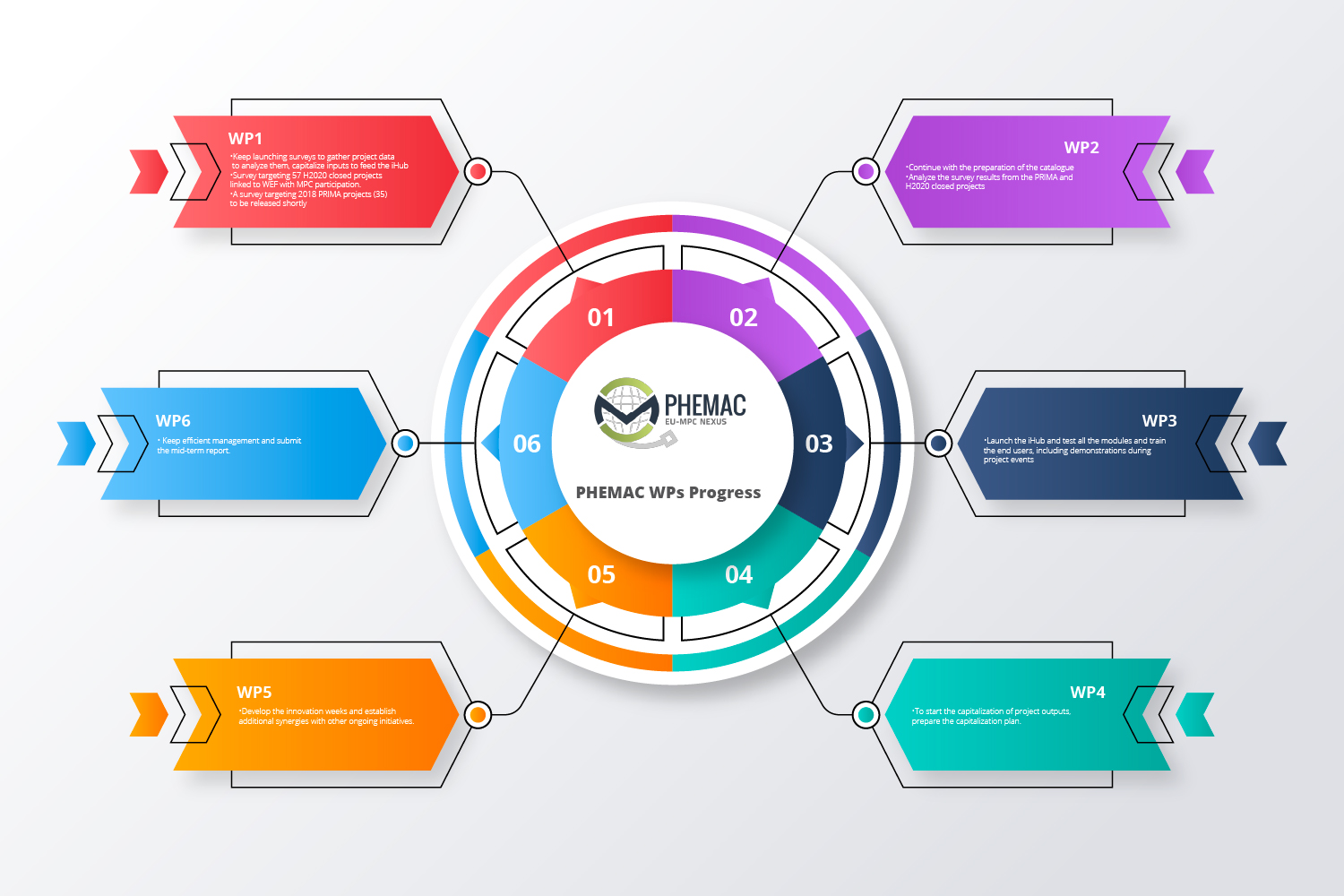 Periodic meeting of PHEMAC Editorial Board
07/06/2021
The meeting was organised in videoconference and was celebrated the 7th of June. During the meeting, the group, composed by experts from each partner of the PHEMAC consortium, discussed about strategies to adopt to improve the dissemination impact of the project. In particular the EB coordinator stressed the point related to the frequency by which, each partner, would be requested to provide contents to be disseminated via social media and website.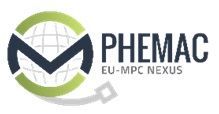 The PHEMAC iHub now live
Conceived as a tool to stimulate visibility and re-use of results, the iHub is a central component of the PHEMAC project which collects and disseminates information about projects funded by various agencies that publicly share their data.




This knowledge-based platform is composed by 4 main elements designed to enhance cross-fertilization of different territorial experiences and multidisciplinary collaboration:

Discover the NEXUS Water Energy and Agri-Food best practices in the European and Mediterranean Partner Countries, take your tour in the iHub now! For questions or further information, contact us at phemacproject@gmail.com

WEF Innovation - Stay in touch
DARBCO – Solar Cleaning Solutions
DARB was established in 2017 as one of the innovative companies in the MENA region ECO system, aims to solve the problem of dust accumulation over solar panels, by continuous development and manufacturing of automated solar panels cleaning solutions. Solar systems are installed worldwide since it is a clean and cheap energy source, but suffers from the dust accumulation over its surface which affects the feasibility of these solar projects by reducing the energy output and increasing the needed resources for the cleaning process such as water, labour, and time which increase operational costs. DARB has developed an innovative automated solution that guarantees high levels of cleaning efficiency and reliable operations. DARB products are designed to fulfil the desertous weather and dusty areas by integrating high-efficiency cleaning mechanism to reduce the needed water and time without affecting the cleaning results. Since solar panels are sensitive to mechanical interaction that may cause scratches or Micro-cracks, all materials used in the manufacturing of the machines have been especially developed and tested for safe operations. More Information about the Company
Farm Business Innovation 2021
10-11 NOV 2021, Birmingham, UK
The Farm Business Innovation Show is the largest exhibition of its kind, in Europe, helping farmers with the tools to diversify their land. Over the course of two days, on the 10th & 11th November 2021, organizers will welcome 17,000 visitors through the doors of the NEC, Birmingham.
Digital Conference // WEFE Nexus Science Advances - Online from Nicosia (Cyprus), 27 – 29 September 2021
Due to the coronavirus crisis, the WEFE Nexus Science Advances Conference was postponed again, to September 2021. The Conference will be held entirely online, with successive high-level panel sessions and group work spread over three days. The theme of this edition is 'From Science to Practice: The Water-Energy-Food-Ecosystems Nexus in the Mediterranean'. https://wefe-nexus-medconf-2021.eu/
9th Annual International Conference on Sustainable Development (ICSD) - 20-21 September, 2021 virtually
The Global Association of Master's in Development Practice Programs (MDP), in collaboration with the Sustainable Development Solutions Network (SDSN), will hold the Ninth Annual International Conference on Sustainable Development (ICSD) on 20-21 September, 2021 virtually. The 2021 conference theme is Research for Impact: An Inclusive and Sustainable Planet. https://ic-sd.org/
Tunisia Japan Symposium 2020 (TJS-2020) ; 23-25 Novembre 2021
Nowadays Science and Technology of materials and Nanomaterials are of prime importance in our societies. In this context, the CRTEn and CNRSM in collaboration with the University of Tsukuba organize the Tunisia Japan Symposium 2020 (TJS-2020), which will be held from 23 to 25 November 2021 in Hammamet (Tunisia).
EU and MENA Techdays Meet Up; 29 and 30 June 2021
Join 400+ attendees from the region's most active business clusters, industry players, and leading academic, tech transfer, and R&D institutions to exchange knowledge, forge new partnerships, and open up new collaboration and growth opportunities across the European and Mediterranean markets.
1st International Congress on Coastal Research (ICCR 2020); 6-9 July 2021
PHEMAC project is sponsor of the 1st International Congress on Coastal Research (ICCR 2020), that will be held at the faculty of Sciences and techniques of AL Hociema, Morocco from 6th to 9th July 2021. Presentation about the PHEMAC project will be given during the event.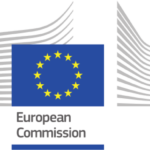 The PHEMAC project is co-funded under the PRIMA programme. An Art.185 initiative supported and funded under Horizon 2020, the European Union's Framework Programme for Research and Innovation.
The contents of this Newsletter are the sole responsibility of the authors and can in no way taken to reflect the views of the European Union.