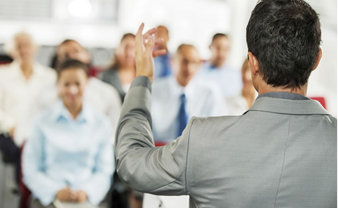 It allows participants operating in various sectors of activity to exchange experiences and share reflections in a friendly environment. Organized during day in a hotel of the region, this training is spread over a period of 2 to 4 days and helps in developing skills through the application and transfer of knowledge.
Thanks to our network of experts
We are able to build tailor-made training
It is intended for the executives belonging to the same company and can be provided in the form of ad -hoc and specialized actions.
This personalized training is flexible at the level of the agenda and date as it is tailored according on the reality of the company and the nature of its business.
Content, support, themes and practical cases
Are fully adaptable to your company's own objectives
It has the advantage of being adapted to the schedule of the professionals, students, young people and the large public as it is taught in evening classes.
These courses are destined to a public in search of new skills, they are based on the necessary theoretical bases and a real conditioning to the practice.
Classes (from 8 pm to 50 hours of training) are generally provided between 6 pm and 8 pm at the rate of 3 times per week
To increase your chances on the job market,
The CCIC offers a large choice of evening classes for adults,
open to all and without age limits